The Central Lee Agricultural Education III classes are landscaping the newly renovated Central Lee High School campus. Students use proven strategies to design and install landscape materials. All students in Agricultural Eduction learn valuable skills in the classroom and experience "hands-on" learning while performing tasks that relate to real life experiences. Front (kneeling) L-R Conner McCarty, Allison Kerr, James Hemingsen, Joshua Hawk, Karissa Moeller, Mya Lampe, Jordan Vorwaldt. Back (left of sign) L-R Gabe Lovell, Keating Fuger, Makayla Morrison, James Ferris, Karlie Pohren, Adrian Breitenstein, Ryan Roberts, Gannon Wells, Back(right of sign)Brooke Snyder, Olivia Tennant, Ben Seamons, Rylee Matlock, Shawn Caviness and Emily Seamons. Students pictured are one of two classes performing the landscape installation.

Last week, Steve Jones of Pilot Grove Savings Bank worked with Mr. Van Ausdall's Winning the Money Game Classes on how to write proper checks and how to reconcile a bank statement. Steve brought blank checks from the bank, a check register, and a bank statement for each student. After getting the checks written and the reconciliation completed, he shared some timely advice when it comes to investing. Students are currently studying investing in class. #CTEworksforCL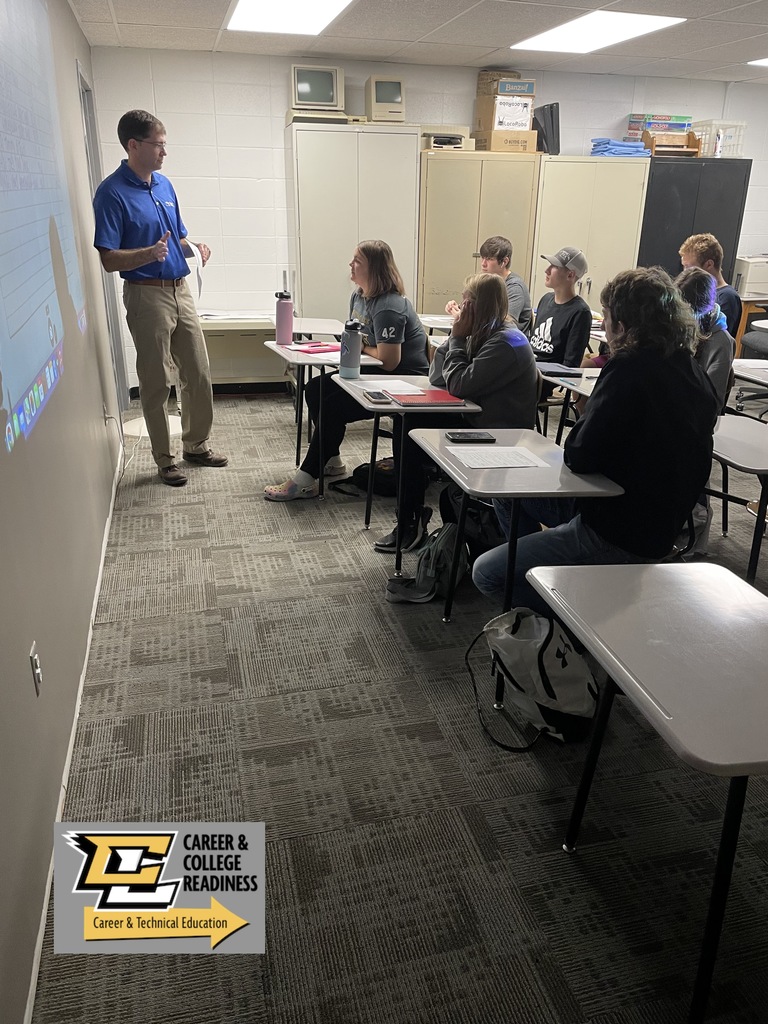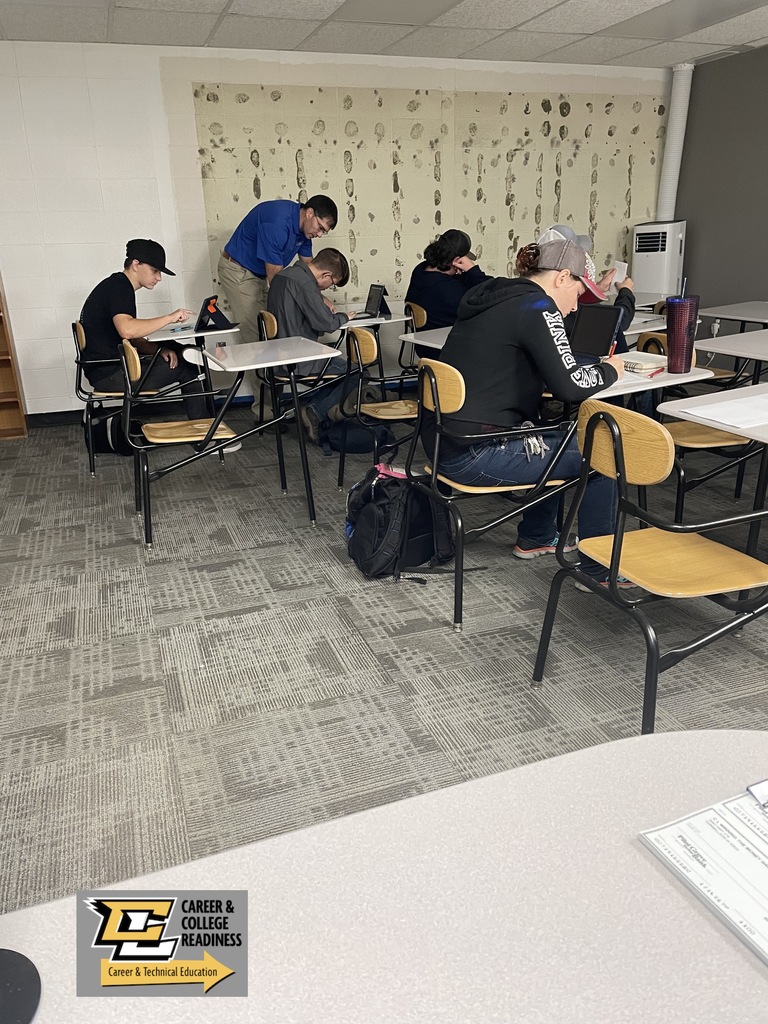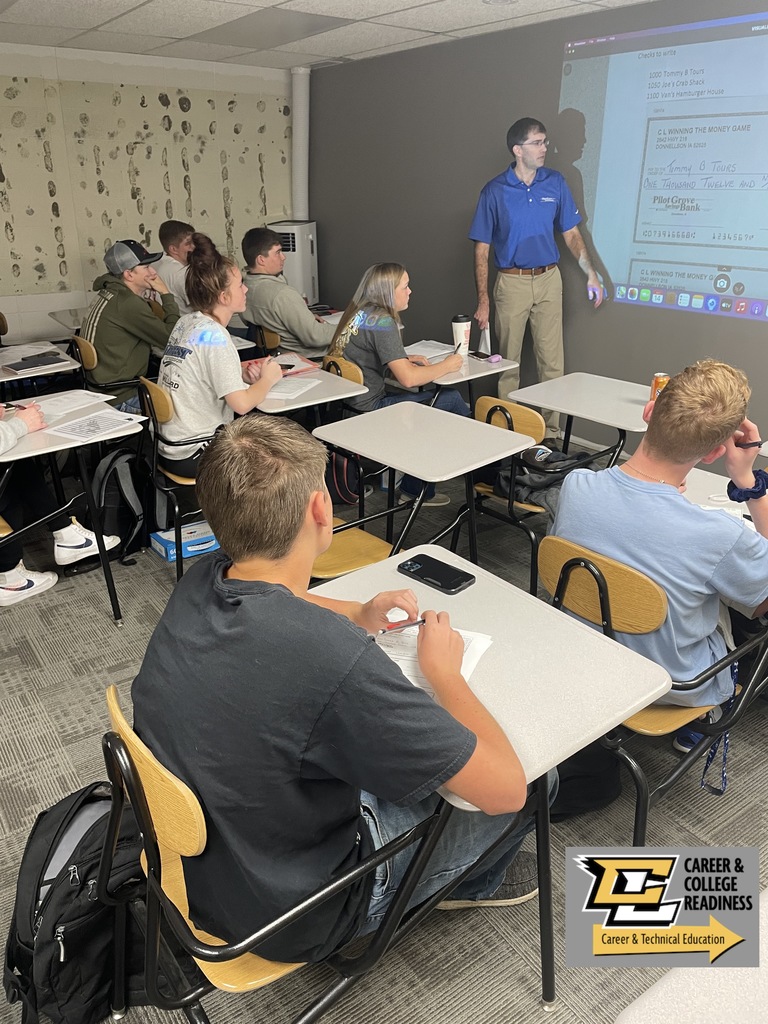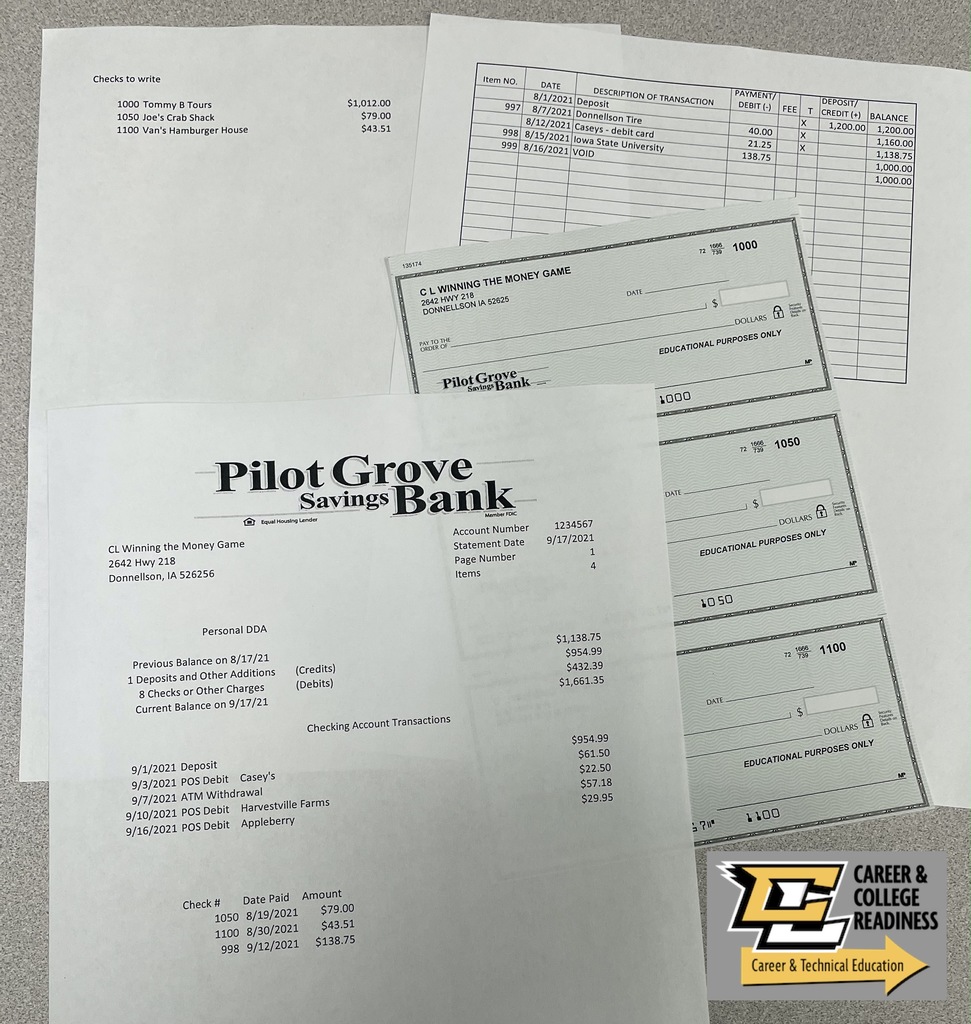 Today is Unity/Stop Bullying Day! We would like to thank our students for creating and maintaining a positive and healthy learning environment for themselves and their peers—today and every day. Show your support for unity and anti-bullying by wearing ORANGE today! Learn more:
https://www.pacer.org/bullying/nbpm/unity-day.asp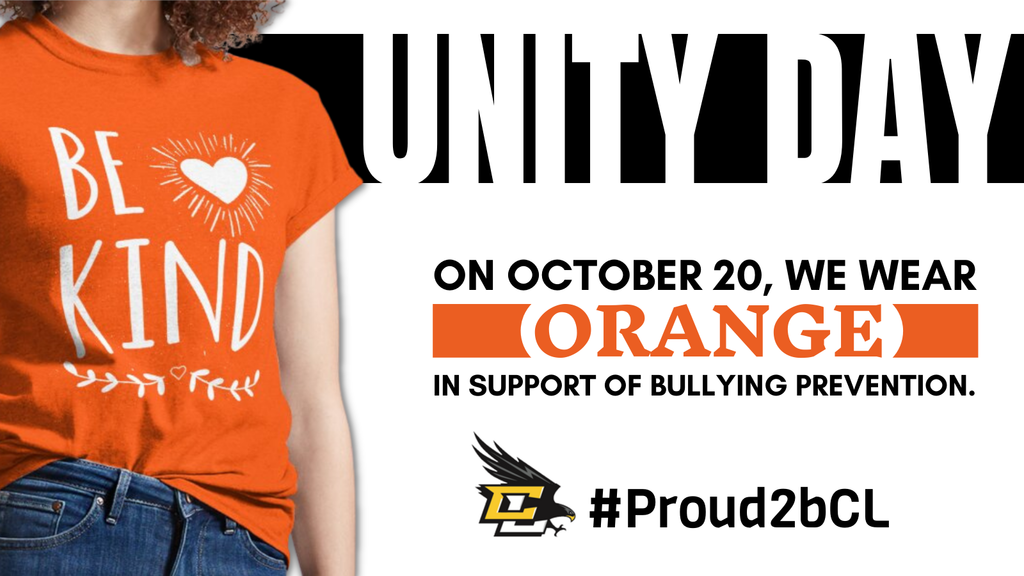 Central Lee FFA Greenhands(1st year FFA members) attended a Greenhand Fire-up activity at Clear Creek Amana Schools recently. Members learned valuable lessons in leadership, teamwork, and service to the local community. Front(L-R) Anna Coulter, Jaciann Hawk, Kennedy Wellman, Kamryn Cox, Adriana Rippenkroger. 2nd row Ostyn Moore, Cash Turner, Kegan Damico, Carlee Pezley, Courtney Davidson, Erika Chambers, Halle Lampe, Kodi Moeller, Jalyn Hawk, Brandon Suminski, Adelyn Robinson, Lila Shepard, Middle next row- Connor Bollin, Issy Rooney, Drake Weber, Will Kempker, Ben Foreman, Cash Pezley, Leo Thomas, Ethan Bergman. Back row- Joe Krebill, Bryson Herrick, Gavin Polhans, Lucas Wenke, Andrew Underwood, Brayden Wyrick, Zach Richardson, Owen Krogmeier, William Ferris, Albert Kruse. FFA is a dynamic youth organization that changes lives and prepares members for premier leadership, personal growth and career success through agricultural education. FFA develops members' potential and helps them discover their talent through hands-on experiences, which give members the tools to achieve real-world success. Members are future chemists, veterinarians, government officials, entrepreneurs, bankers, international business leaders, teachers and premier professionals in many career fields. FFA is an intracurricular student organization for those interested in agriculture and leadership. It is one of the three components of agricultural education. The official name of the organization is the National FFA Organization. The letters "FFA" stand for Future Farmers of America. These letters are a part of our history and our heritage that will never change.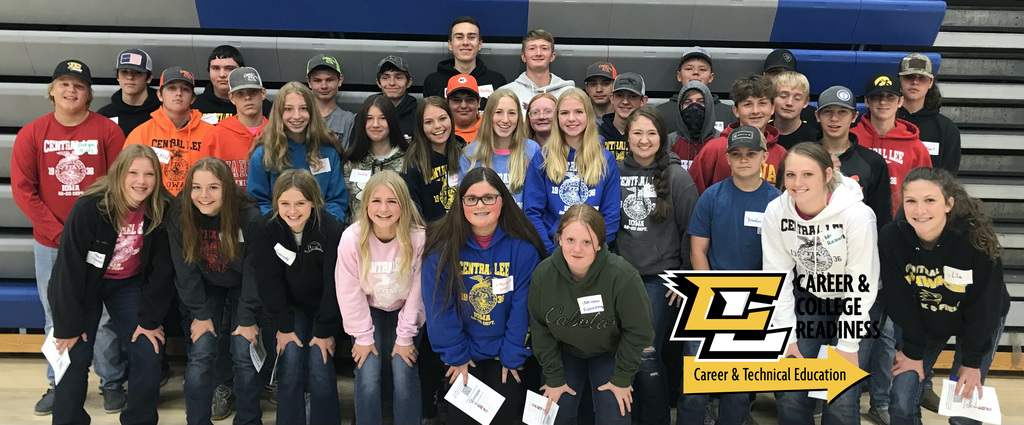 Let the H.S. Art Club give you a scare in the Central Lee Haunted Woods! Park at the K8 & enter at the baseball field. Trick or Treat from 6:30-7 with no spooking allowed. The scares begin at 7 and go until 9. Free will donation goes to support the Art Club. See you, if you dare!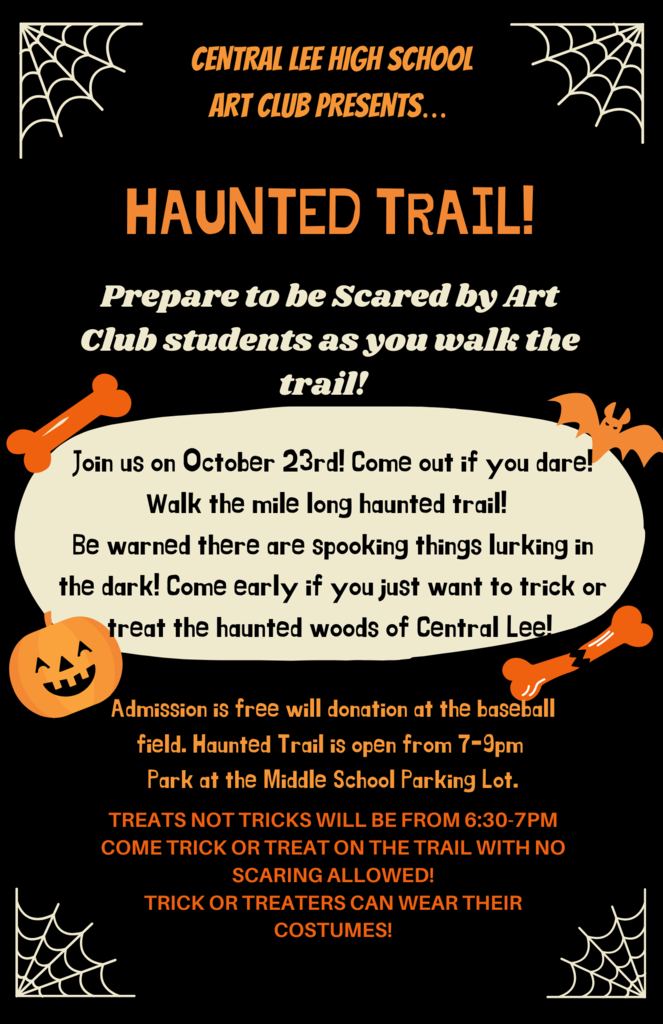 Support the Central Lee Post Prom Committee by purchasing supper from SMOKIN J's Food Truck this Tuesday, October 19th from 4 - 8 pm or until food runs out. They will be located at the Board Office. Call ahead orders are welcomed by calling 319-520-6742. Thank you for your support!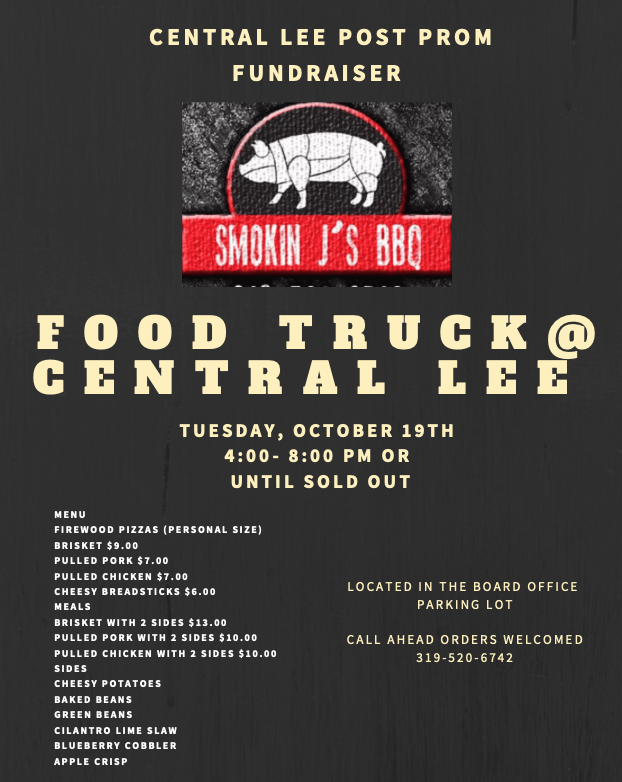 It's important for students, families and motorists alike to understand the importance of school bus safety! Here are some tips we should all keep in mind to ensure we protect the safety of ourselves and those around us when riding on or driving near buses:
https://www.nhtsa.gov/road-safety/school-bus-safety

Don't forget! Parent-Teacher Conferences are Tuesday and Thursday this week (October 19th and 21st) from 4 - 8 p.m.

Congratulations to the 2021 Marching Hawks on earning a Division 1 rating at the IHSMA State Marching Band Festival in Davenport. The students have worked extremely hard this year to represent the Central Lee School District around the region in the best way. Thank you to all of the chaperones, pit crew members, trailer drivers, bus drivers, for helping our students put their show on the field each week.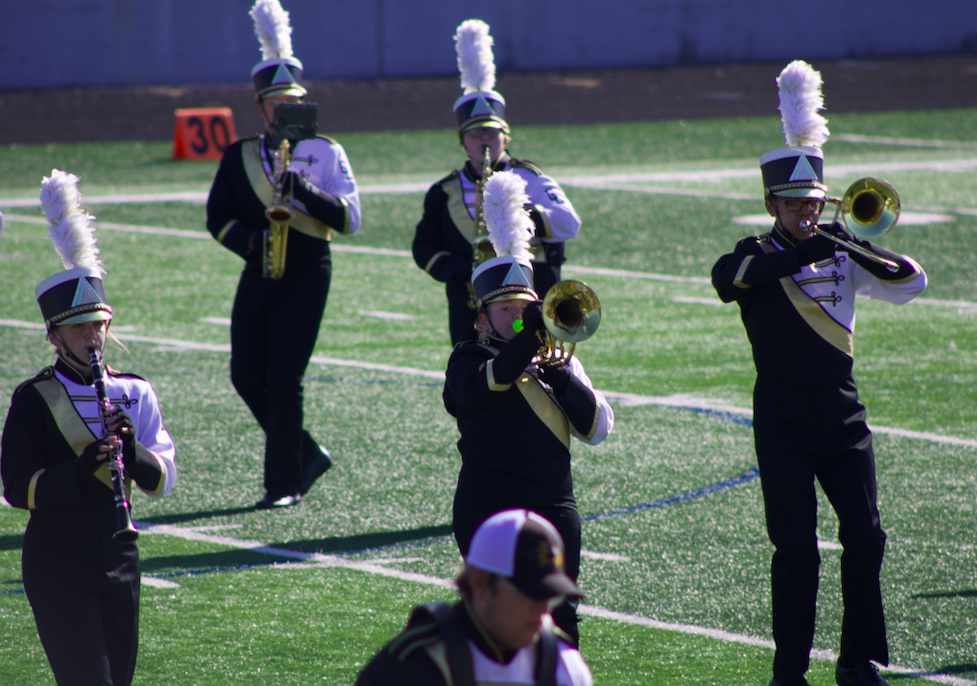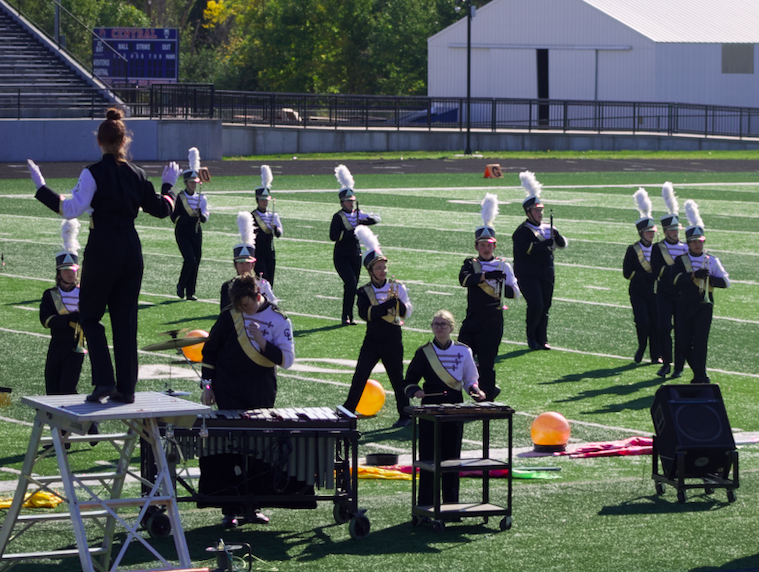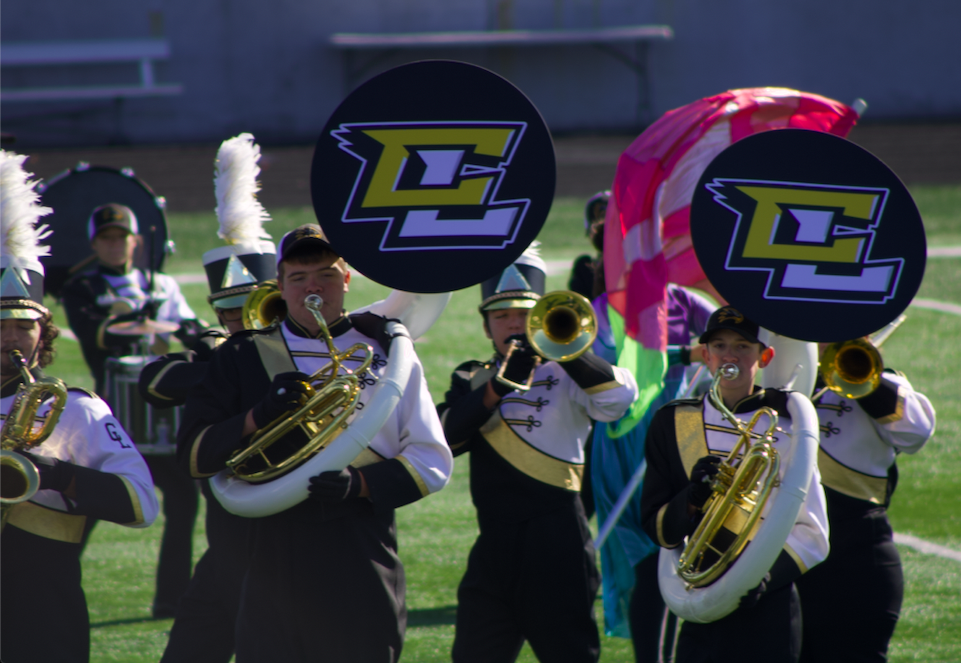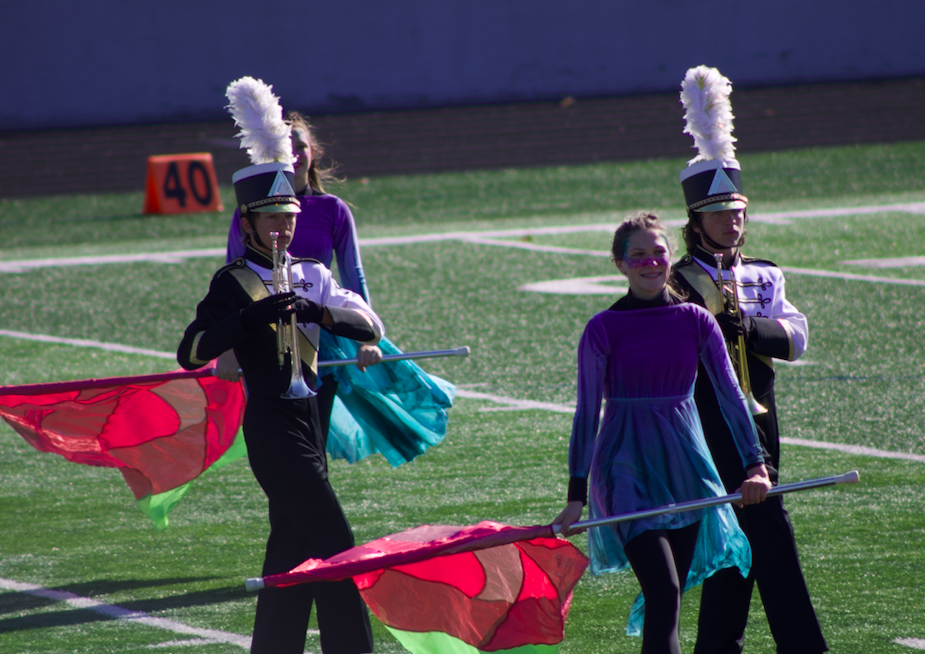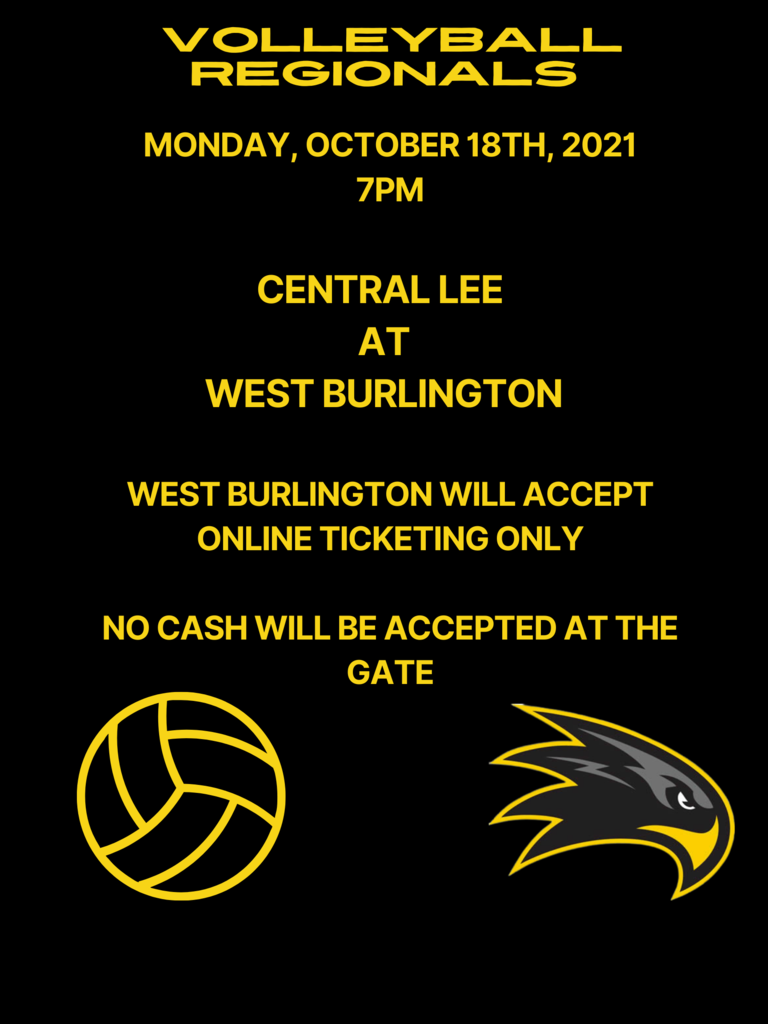 Macy Watkins, Senior at Central Lee High School competed in an essay competition through Next Gen Personal Finance. Macy played the PAYBACK Game and then responded to the following prompt. "How will your college decision-making change because of the pandemic?" Next Gen sponsored the competition for any Junior or Senior across the country. Selected winners shared a $75,000 college scholarship. Although Macy's essay was not selected as a winner, it was very well written and is shown below. After playing PAYBACK from Next Gen Personal Finance, I have a much better understanding of what to expect in college. PAYBACK has shown me that my decisions in college have a very strong impact on my future. Because COVID-19 has impacted how college will be for many students, I have decided that when I am looking for classes, I will also look to see what the school's protocols are in case the campus gets shut down. Also because of this pandemic, I will consider the costs of room and board as well depending on what may happen if I am sent back home. COVID-19 has changed the way that classes can be taught, and I want to make sure that I am making the best financial and educational decisions in order to receive a well-rounded education and be able to not accrue as much student loan debt while in college. While I am in the process of searching for colleges, I will make sure that I am being practical and saving as much as I can while still being able to be with my friends and family. During college, I will focus on my studies, spend time making lifelong connections with friends, have fun with my friends, and save money for life after college. PAYBACK has made it very clear that I need to use my time very wisely while balancing a well-maintained lifestyle throughout college. I now know that I need to make wise decisions before and during my college experience. #Proud2bCL #CTEworksforCL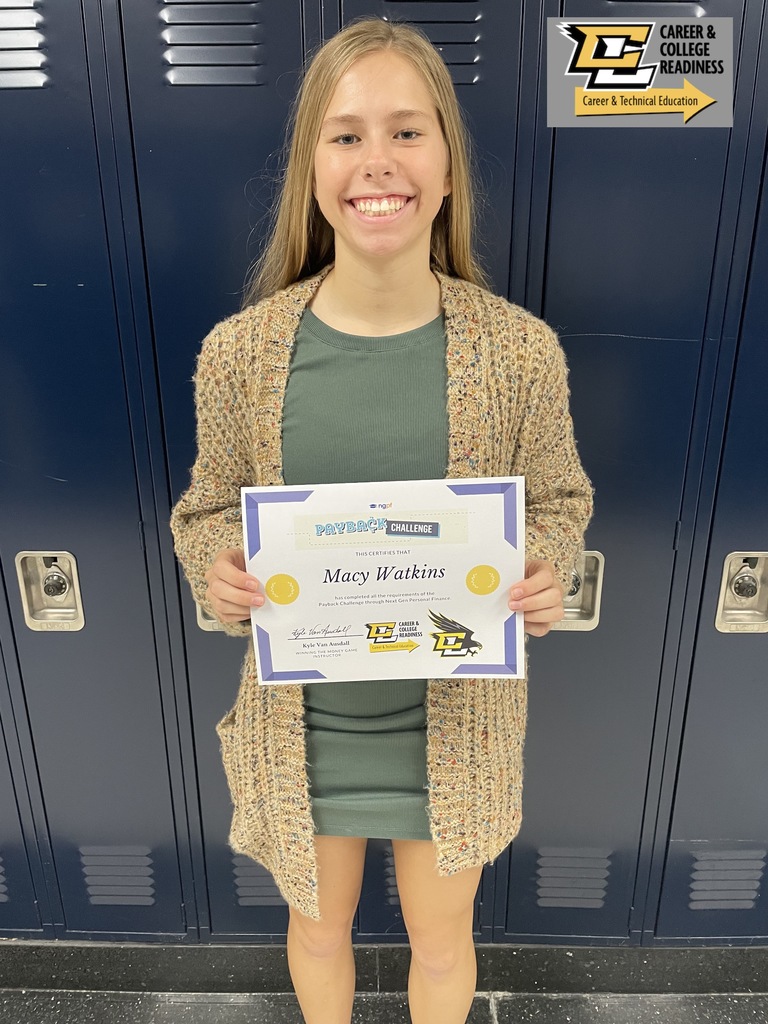 Tonight is Senior Night for students participating in Football, Cross Country, Cheer, and Band! Come out and support the Hawks to help make this a night for them to remember. Senior Night will take place following the JV Football game at approximately 6:45 pm. Students and Parents involved need to meet on the northwest end of the track at 6:20 pm. Go Hawks!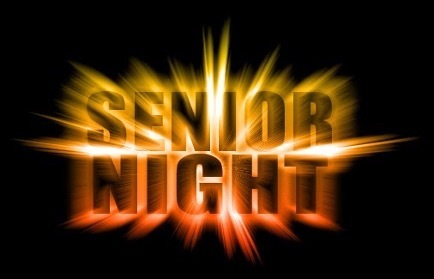 Central Lee High School students invite you to wear your green on Friday, October 15 in memory of one of our own- Zephan Abel. We cherish the memories.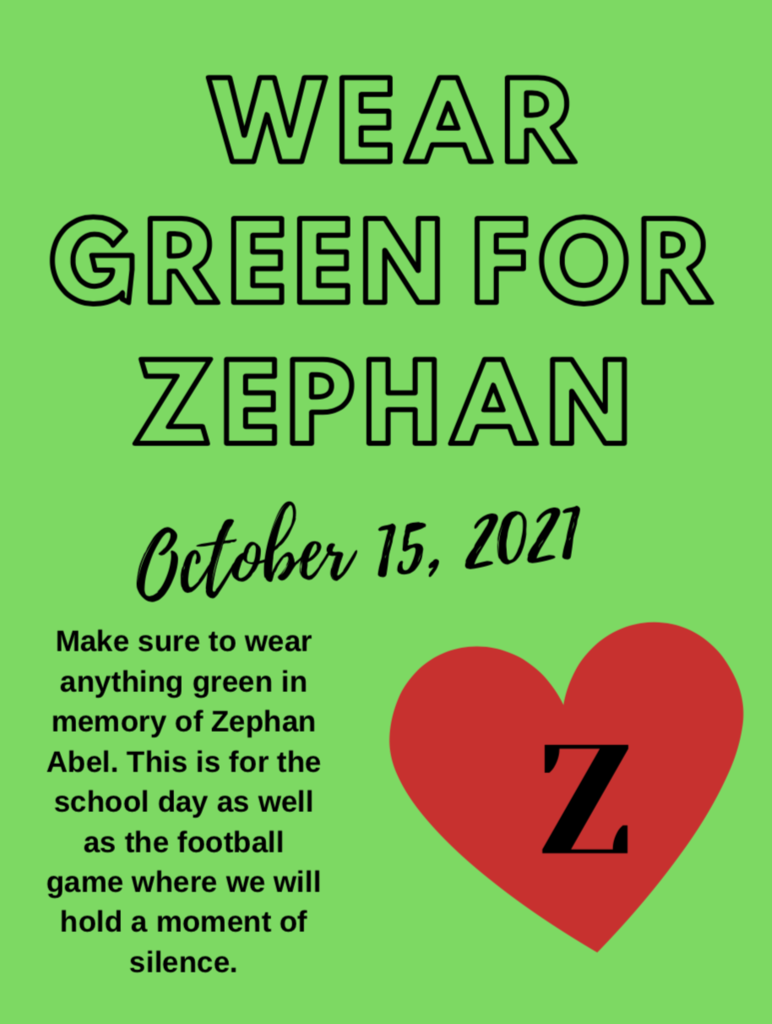 Come support the CLHS Post Prom Committee's Grill Night. This Friday, October 15th we will have pork loin, hamburgers, hotdogs, and desserts available for sale starting at 5:00 pm near the concession stand. Thank you for your support!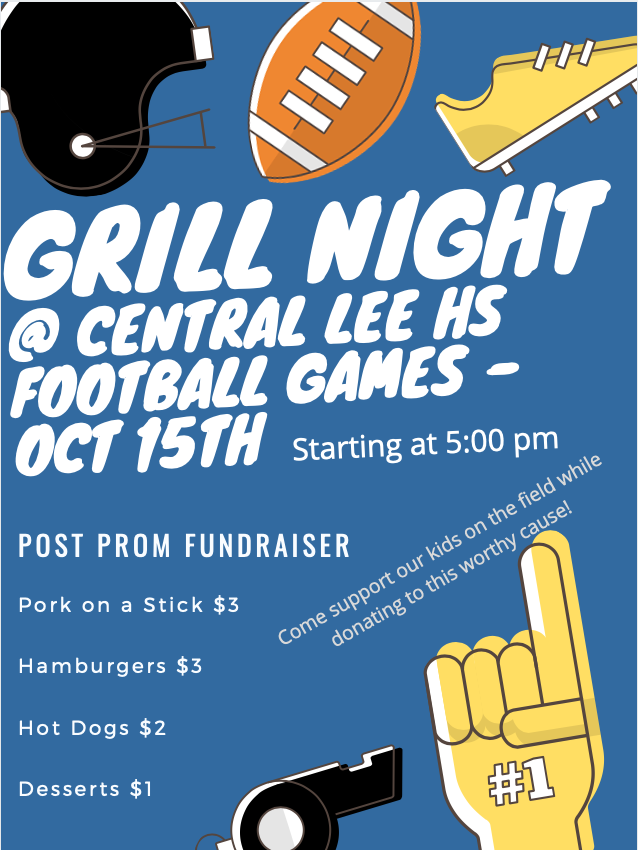 While in her fourth year enrolled in Agricultural Education classes and completing SCC concurrent enrollment classes here at Central Lee, Chyane Davidson is applying skills in the workplace. Chyane is enrolled in our Work-Based Learning class through the Career and College Readiness Program. As a part of the experience, she is working in the agriculture field at Donnellson Elevator. She is preparing to transition from her experiences here, to college, and onto a career in agriculture. #CTEworksforCL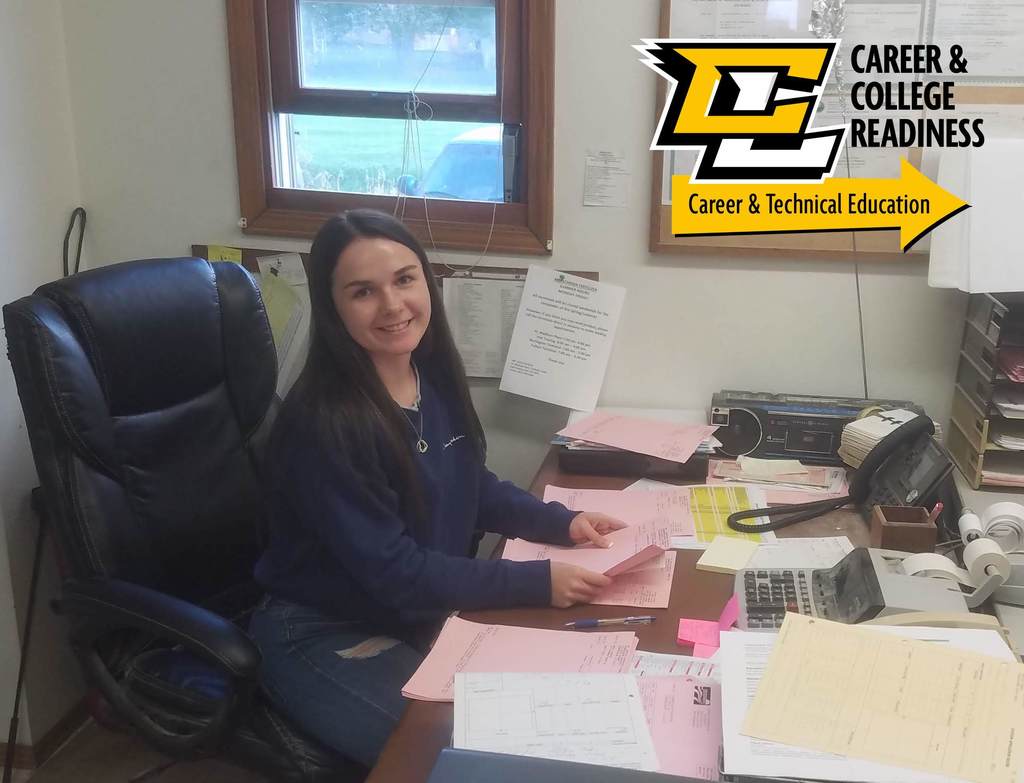 NHS celebrated with a Back-To-School Kick-Off Picnic. The event was held during the first week of school at the Donnellson Ballparks. NHS members enjoyed pizza, chips, and ladder golf. #Proud2bCL. #CL_NHS_Rocks!